WHY DO WE FOCUS ON TRAINING
Howdy Friends! Training, and trainers are of course important. To be fair many things must be taught, and learned, by both horse and person. Training is the backbone of so many of the disciplines folks pursue with their horses, from trail riding, western pleasure, showing, hunter jumper, dressage, and on and on. Sure we need to learn what we're doing. We and our horse, and that requires lessons, and training. Sometimes plenty of it.
I've heard it said every time you're on your horse you should be training. That's an interesting paradigm. I don't intend to take anything away from the importance, or benefits of training. But every time you're on your horse?
Over the years I've met folks who take lessons, and go to clinics all the time.
I've met a folks who do nothing in between. They just go to clinics, and lessons. They may not ride for weeks, and sometimes, months at a time. Some folks board their horses at training barns, and only ride when it's time for the next lesson. And for them, that's perfect … But what if it could be more perfect?
Deeper Relationships
I suggest folks can establish much deeper relationships with their horses by not always focusing on training. Mix in plenty of just being partners together time. For sure not everyone can start their day like I do having Coffee in the barn with their horse.
A lot of folks don't have the luxury of having their horses at home. If that's your case, be sure you spend time with your horse other than just showing up for lessons and training. They'll love you for it.
Learn a few exercises you can do on the ground, even in the stall with your horse to help their posture and body carriage. You can see many here in my book "It's For The Horses," and in my blog that horses love, and greatly benefit from.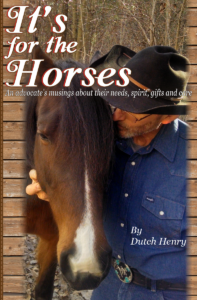 I believe all horses should have plenty of easy going, "don't think about nothin'," trail time.
Just go down the trail. Do some chatting with friends. Or better yet, go alone. Just you and your horse. Don't forget to watch the birds! The training will simply fall into place if you don't focus on it all the time. Just let it happen. Allowing yourself and your horse to work through mistakes in an unstructured moment is fun. Let the mistakes happen and see where they lead you. Enjoy your horse so she can enjoy you. And remember, find time for that relaxing trail time.~Gitty Up ~ Dutch.